Horror Tip
---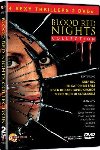 Where Children Play (Region 1)
- Where Children Play
Releasedatum: 1 december 2015
DEEP RED (a.k.a. The Hatchet Murders)
Starring: David Hemmings, Daria Nicolodi
Director: Dario Argento
After witnessing a brutal murder by an unknown assailant, a musician (Hemmings) is pursued by a maniacal psycho hell-bent on protecting a deep, dark secret! From master of suspense Dario Argento, a.k.a. The Italian Hitchcock!

THE CAT O NINE TAILS
Starring: Karl Malden, James Franciscus, Catherine Spaak
Director: Dario Argento
A blind puzzle designer (Malden) and a cunning journalist (Franciscus) investigate a series of mysterious murders that follow a break-in at a genetics lab. Nine different clues lead to a shocking web of blackmail, dark secrets, and twisted experiments involving the XYY chromosome!

SEVEN BLOOD STAINED ORCHIDS
Starring: Antonio Sabato, Uschi Glas
Director: Umberto Lenzi
A mysterious black-gloved maniac commits a series of ritualistic murders, each with a half-moon locket left as a calling card. A young woman miraculously escapes death, and she and her husband become amateur sleuths, but the killer seems to anticipate their every move!

SHORT NIGHT OF GLASS DOLLS
Starring: Barbara Bach, Ingrid Thulin, Jean Sorel
Director: Aldo Lado
In this surreal murder mystery, a man (Sorel) being prepared for an autopsy cannot move or talk to convince the morticians that he is still alive! Laid out on the morgue slab, he tries to recall the events that led him to his cataleptic condition. Stars glamorous The Spy Who Loved Me Bond girl Barbara Bach!


€ 28.99

Horror Tip Archief