Horror Tip
---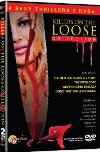 Bone Tomahawk
- Bone Tomahawk (Region A)
Releasedatum: 29 december 2015
POP FLIX PRESENTS A NEW SERIES OF SEXY PSYCHOLOGICAL THRILLERS INSPIRED BY THE CLASSIC "GIALLO" LINE OF ITALIAN PULP NOVELS!

THE RED QUEEN KILLS 7 TIMES
Starring: Barbara Bouchet, Sybil Danning
Director: Emilio Miraglia
An ancient family curse of two queens whose hostility ended in supernatural acts of vengeance and murder returns to haunt two sisters at a gothic mansion. Co-stars the stunning Casino Royale Bond girl Barbara Bouchet, and statuesque cult movie queen Sybil Danning!

THE FIFTH CORD
Starring: Franco Nero, Pamela Tiffin, Silvia Monti
Director: Luigi Bazzoni
When four beautiful socialites are murdered, a daring reporter (Nero) attempts to solve the case before the killer strikes victim #5! This captivating murder mystery features breathtaking cinematography by Academy Award® winner Vittorio Storaro (Apocalypse Now, Reds, The Last Emperor).

SEVEN NOTES IN BLACK
Starring: Jennifer O Neill, Gianni Garko, Marc Porel
Director: Lucio Fulci
A woman (O Neill), tormented by morbid premonitions, finds a shocking discovery behind a wall in her home a human skeleton! As she desperately seeks to identify the victim, the murderer works equally hard to cover his tracks! Stars one the most beautiful women in the world, internationally acclaimed cover girl and film star Jennifer O Neill!

DON T TORTURE A DUCKLING
Starring: Tomas Milian, Barbara Bouchet, Irene Papas
Director: Lucio Fulci
When several young boys are found strangled to death in a quiet provincial town, a hard-nosed reporter (Milian) and a bored city girl (Bouchet) uncover a fiend and motive more shocking than the crimes themselves! This controversial film is highly regarded as the masterpiece of director Lucio Fulci s career!


€ 31.99

Horror Tip Archief