Horror Tip
---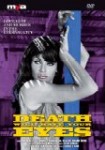 Death Will Have Your Eyes (1974) (Region 1)
- D'eramo, Giovanni
Releasedatum: 18 oktober 2011
Louisa (Marisa Mell) is a young and attractive woman who wants to make a living for herself in Rome, but soon falls prey to some very shady characters that force her into prostitution.
While struggling to keep herself afloat, she meets a fascinating doctor (Farley Granger) who is also a would-be poet. However, Louisa doesn't really love him, and falls for another man. When she gets involved in a murder, blackmail and violence ensue until the shocking final revelation.

Death Will Have Your Eyes is one of the most obscure Italian
giallo films ever made. Graced by the otherworldly presence of Marisa
Mell (Danger: Diabolik), the film features a haunting score by
maestro Stelvio Cipriani. With a dream cast that comprises Luciano Pigozzi (aka Alan Collins, an Anthony M. Dawson stalwart), Helga Liné (Killing of the Dolls), Mircha Carven
(Captive Women II: Orgies of the Damned) and Riccardo Salvino
(Emanuelle in America), Death Will Have Your Eyes is an obscure find that will satisfy even the most rabid giallo fans!
Horror Tip Archief