Classics Tip
---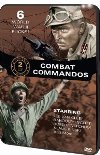 Combat Commandos (Region 1)
- Combat Commandos
Releasedatum: 11 september 2012
6 WwII Flicks Starring Lee Van Cleef, Randolph Scott, Robert Mitchum, Klaus Ki nski & More!

COMMANDOS
Starring: Lee Van Cleef, Jack Kelly, Giampiero Albertini An Army Sergeant (Van Cleef) puts together a crack force of Italian-American commandos to impersonate Italian soldiers in order to infiltrate an Axis stronghold in North Africa.

DESERT COMMANDOS
Starring: Ken Clark, Horst Frank, Carlo Hinterman Five German commandos parachute into North Africa on a secret mission to assassinate Churchill, Roosevelt, and de Gaulle at a conference in Casablanca!

GO FOR BROKE
Starring: Van Johnson, Gianna Canale, Kane Nakano, George Miki This film commemorates the 442nd Regimental Combat Team, a unit composed of Japanese-American volunteers from US internment camps. They fought with uncommon valor to become the most decorated battalion in the history of the US military, including 21 Medals of Honor.

GUNG HO!
Starring: Randolph Scott, Robert Mitchum, Noah Beery, Jr. A marine colonel (Scott) transforms a motley crew of barroom brawlers and psychopaths into a crack squadron of fearless jungle fighters. Their first mission is an all-important raid on the heavily fortified Japanese held Island of Makim!

FIVE FOR HELL (WIDESCREEN)
Starring: Klaus Kinski, Gianni Garko, Margaret Lee Five misfit soldiers are sent on a suicide mission behind enemy lines to steal secret Nazi attack plans. The blueprints for this imminent German assault are locked in safe at an Italian villa guarded by a huge number of troops and led by a brutal SS colonel (Kinski).

HELL IN NORMANDY
Starring: Guy Madison, Peter Lee Lawrence, Erika Blanc The king of Italian action movies, director Alfonso Brescia, does his best work in this bullet-ridden WWII story. American commandos, led by Captain Murphy (Madison), parachute into occupied Normandy to destroy a Nazi flame-thrower installation, which threatens the Allied landings on Omaha Beach!
Classics Tip Archief