Classics Tip
---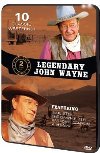 Legendary John Wayne (Region 1)
- Legendary John Wayne
Releasedatum: 11 september 2012

10 Classic Westerns Starring The Iconic Screen Legend!

BLUE STEEL
A US Marshal (Wayne) goes undercover to save the ranchers of Yucca City from the ruthless Polka Dot Bandit.

WINDS OF THE WASTELAND
Two former pony express riders inadvertently buy a dilapidated stagecoach line to a ghost town and enter a race to win a lucrative government mail subsidy!

THE DAWN RIDER
A gang of masked bank robbers badly injures Wayne and kills his father. The sister of the bandit who murdered his father nurses him back to health.

RANDY RIDES ALONE
Wayne enters a saloon full of corpses and is accused of being the murderer! He sets a trap for the real killer in a desperate attempt to prove his innocence.

THE LAWLESS FRONTIER
Wayne hits the trail seeking a half-breed Apache outlaw, who is wanted dead or alive for cattle rustling and murder.

PARADISE CANYON
Wayne goes undercover as a sharpshooter in a traveling medicine show to catch a gang of counterfeiters!

SAGEBRUSH TRAIL
Wrongfully convicted of murder, Wayne breaks out of prison to clear to his name and is befriended by the leader of an outlaw gang!

THE STAR PACKER
When a newly elected sheriff is shot and killed, Wayne arrives to turn the tables on the bad guys.

THE TRAIL BEYOND
Wayne and his pal search for a long-lost miner but find him murdered! They discover a map leading to the miner s gold mine, but must shoot it out with a nefarious trapper.

THE MAN FROM UTAH
Wayne is deputized by the town marshal after helping foil a bank robbery, and investigates the deaths of several champion rodeo riders.
Classics Tip Archief