Classics Tip
---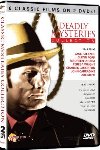 Deadly Mysteries Collection (Region 1)
- Deadly Mysteries Collection
Releasedatum: 11 september 2012

6 Classic Films On 2 DVDs, Starring Jack Palance, Glenn Ford, Maureen O Hara, Teresa Wright, Charles Laughton & John Carradine!

MAN IN THE ATTIC
Director: Hugo Fregonese
In foggy London circa 1888, Jack the Ripper is loose leaving a trail of grisly, bloody murders! A beautiful showgirl is drawn to a reserved pathologist (Jack Palance) conducting late-night experiments in his attic. Could this mysterious man be the notorious, knife-wielding killer?

REIGN OF TERROR (AKA THE BLACK BOOK)
Director: Anthony Mann
The ruthless figure of the French Revolution, Maximilien Robespierre, has designs on becoming France s next dictator, but his plot will be foiled if a missing black book condemning his opponents falls into the wrong hands!

THE GREEN GLOVE
Director: Rudolph Mate
A down-on-his-luck veteran (Glenn Ford) returns to post- WWII France to recover a jewel-encrusted holy relic stolen by the Nazis. His quest leads him down a deadly trail involving an alluring tour guide, Nazi collaborators, and murder!

JAMAICA INN
Director: Alfred Hitchcock
Set in the 19th-century Cornish Moors, a young orphan (Maureen O Hara) is sent to live with relatives who are landlords of the Jamaica Inn. She begins to fear for her life when an investigator reveals her uncle (Charles Laughton) is the leader of a band of throat-slashing pirates!

BLUEBEARD
Director: Edgar G. Ulmer
The most sinister love story ever told! A tormented artist (John Carradine) is terrorizing 19th century Paris. After painting the portraits of beautiful women, he is compelled to strangle his unsuspecting subjects and then dump them in the river Seine!

The Capture.
Classics Tip Archief