Classics Tip
---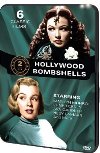 Hollywood Bombshells (Region 1)
- Hollywood Bombshells
Releasedatum: 11 september 2012
6 Classic Films Starring The Most Beautiful Women In The History Of Cinema!

HOMETOWN STORY
Starring: Marilyn Monroe, Donald Crisp, Alan Hale, Jr. Iconic blonde bombshell Marilyn Monroe plays the secretary to a small-town newspaper editor who begins a campaign to prove that corrupt big business has taken over City Hall!

SUNDOWN
Starring: Gene Tierney, Bruce Cabot, George Sanders Gene Tierney, the most beautiful woman of her era, stars in this WWII espionage thriller! At an English outpost in North Africa, two British officers (Cabot & Sanders) enlist a ravishing caravan trader (Tierney) to help thwart the Nazis from supplying arms to local rebels.

OUTPOST IN MOROCCO
Starring: Marie Windsor, George Raft, Akim Tamiroff Glamorous film heroine Marie Windsor shines in this Foreign Legion extravaganza. An emir s vivacious daughter (Windsor) and a dashing captain (Raft) are caught in a web of forbidden love, intrigue, and high-adventure!

WHISTLE STOP
Starring: Ava Gardner, George Raft, Victor McLaglen Knockout heartbreaker Ava Gardner plays a small-town girl returning home as a glamorous femme fatale and ignites a deadly love triangle between a small-time hood (Raft) and an unsavory nightclub owner (McLaglen).

ALGIERS
Starring: Hedy Lamarr, Charles Boyer, Gene Lockhart Hedy Lamarr, the most beautiful woman ever, is alluring as a tourist (Lamarr) who steals the heart of an infamous master thief (Boyer), and he risks his life for her love. Nominated for four Academy Awards including Best Actor and Best Cinematography!

DISHONORED LADY
Starring: Hedy Lamarr, Dennis O Keefe, Margaret Hamilton A gorgeous, hard-partying fashion editor (Lamarr), headed for a nervous breakdown, gets a makeover with a new identity and a new love (O Keefe), but ends up as a murder suspect when her past returns to haunt her!
Classics Tip Archief