Classics Tip
---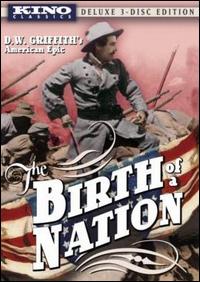 Birth Of A Nation (Region 1)
- Griffith, D.w.
Releasedatum: 22 november 2011
More than 75 years after its initial release, The Birth of a Nation remains one of the most controversial films ever made and a landmark achievement in film history that continues to fascinate and enrage audiences. It is the epic story of two families, one northern and one southern, during and after the Civil War. D. W. Griffith's masterful direction combines brilliant battle scenes and tender romance with a vicious portrayal of African-Americans. It was the greatest feature-length blockbuster yet to be produced in the United States and the first to be shown in the White House. After seeing it, President Woodrow Wilson remarked it was "like writing history with lightning!"
There was a time when critics sought to de-emphasize the film's content and celebrate the picture as an artistic masterpiece, but from today's perspective, such an approach seems less tenable. However flawed The Birth of a Nation now seems as an historical epic, it is undeniable that the film itself made history. In cities and states across the country, it energized the National Association for the Advancement of Colored People (NAACP), which tried to have the film banned, or at least the most gruesome scenes censored. The film also inspired African-Americans to move into filmmaking as a way to offer alternative images and stories.
With Henry B. Walthall, Lillian Gish, Mae Marsh, Ralph Lewis
€ 38.99

Classics Tip Archief