Cult Tip
---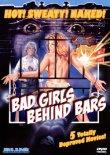 Bad Girls Behind Bars (Region 1)
- 5 Films!!
Releasedatum: 30 juli 2013
Five totally depraved Women In Prison movies from the grindhouse era featuring
AMAZON JAIL: Pursue some of Brazil's sexiest starlets through scene after scene of primal passion and sadistic violence, culminating in an all-out orgy deep in the deadly Green Inferno.
BARE BEHIND BARS: In a women's penitentiary where brutal beatings, steamy showers, and full cavity searches are the order of the day, the cons are turning into pros - and the cemetery is running out of room!
SODOMANIA: Blue Underground has unearthed pristine elements from various international sources to create this Definitive Uncut Edition, fully restoring all of its vicious violence and long-rumored scenes of horrific sexual depravity
WOMEN BEHIND BARS: A depraved delicacy destined to delight connoisseurs of crime and perverted punishment. Uncut and uncensored - a must-see entry in the women-in-prison genre.
5 Disc Collection
€ 36.99

Cult Tip Archief