Cult Tip
---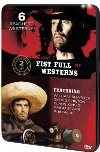 Fist Full Of Westerns (Region 1)
- Fist Full Of Westerns
Releasedatum: 11 september 2012
6 Spaghetti Westerns Starring William Shatner, george Hilton, Klaus Kinski, Ringo Starr & More!

THEY CALL ME HALLELUJA (WIDESCREEN)
Starring: George Hilton, Charles Southwood, Agata Flori
A bounty hunter (Hilton) must outwit banditos, a Russian prince, and a secret agent posing as a nun when he is hired to steal a fortune in jewels from Emperor Maximillian.

I AM SARTANA, TRADE YOUR GUNS FOR A COFFIN
Starring: George Hilton, Erika Blanc, Charles Southwood
On his endless quest for gold, a gunslinging bounty hunter (Hilton) tangles with Mexican bandits, a double-crossing mining boss, and a parasol-carrying dandy!

BLINDMAN (WIDESCREEN)
Starring: Tony Anthony, Ringo Starr, Lloyd Battista
A sightless gunslinger (Anthony) embarks on a bloody killing spree after Mexican banditos steal the precious cargo he was to deliver to Texas miners 50 mailorder brides! Ex-Beatle Ringo Starr is impressive as one of the malicious bandits.

AND GOD SAID TO CAIN (WIDESCREEN)
Starring: Klaus Kinski, Peter Carsten
After enduring ten brutal years of hard labor for a crime he did not commit, a former Union officer (Kinski) has one thing on his mind revenge. But the man who framed him is now a wealthy land baron who guards himself with 30 hired guns!

THE FIGHTING FIST OF SHANGHAI JOE
Starring: Chen Lee, Klaus Kinski, Gordon Mitchell
A Chinese immigrant (Lee) seeks a new, peaceful life in America, but instead finds racists, perverts, slavers, greedy con men, and mercenaries. When provoked, the gentle mystic becomes a deadly killing machine with fists of fury that can ram through his opponents bodies!

WHITE COMANCHE
Starring: William Shatner, Joseph Cotten, Perla Cristal
Half-breed twins (Shatner in a dual role) one the leader of a band of Comanche, the other a member of the white man s world face off in a bloody showdown when a violent range-war is declared!



Cult Tip Archief