Cult Tip
---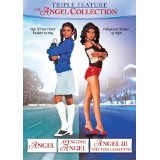 Angel Collection: Angel 1-3 (Region 1)
-
Releasedatum: 1 november 2011
Includes the first 3 films from the popular 80's Angel film franchise:
Angel: Orphaned, 15-year-old Molly Stewart (Donna Wilkes) is a sweet looking honor student at a private girl's school by day, but by night she works the streets of Hollywood as a prostitute named Angel. When a deranged serial killer who preys on hookers starts murdering her friends from the boulevard, Angel takes off on a personal quest for vengeance.
Avenging Angel: When Molly (Betsy Russell), former teen prostitute, learns that Lieutenant Andrews, the cop who got her off the streets, has been gunned down, she leaves her new life as an aspiring and ambitious law student, to return to the neon glow and deserted back alleys of Hollywood as "Angel" to avenge his death.
Angel 3: The Search: Angel (Mitzi Kapture) returns to the street in an effort to find her missing sister. And while undercover, she discovers that her sister is about to be sold into a white slavery ring run by a powerful madame (Maud Adams). The clock is ticking as Angel must break up the slavery network before it's too late.
Cult Tip Archief