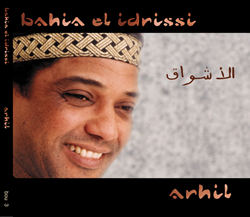 To listen to three tracks of his album, click the trackname to download:
1. Elhajer (1 minute sample)
2. The Flow (1 minute sample)
3. Arhil (complete track)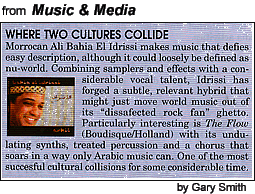 If anyone can be seen to be involved in 'world music' , it certainly is Ali Bahia El Idrissi (Casablanca, Morocco). Idrissi is not only a talented singer, but also an accomplished percussionist, director, composer and songwriter. His musical career started in Morocco where he studied Andalucian singing. Idrissi specialised in soefi-singing, an art form made popular in the Western world by singers such as Nusrat Fateh Ali Khan from Pakistan. In the past few years, Idrissi hasn't only performed as Cheb Mami's and Cheb Khaled's support act, but has also made several video clips with groups such as Casa Express, who have played on the Moroccan tv many times (and in Holland on a number of migrants' tv stations). Musicians which Idrissi has worked with recently include Rachid & Samir Laklifi and Mohammed Benchakhchakh.
In 1998 Idrissi worked together with sound artist Michel Banabila for the first time which resulted in the track 'Idrissi'. Banabila co-operated in the past with East meets West, Yasar Saka, Erkan Ogur, and Byzantium to name a few. Currently, he has already signed off on a respectable number of solo CD's including VoizNoiz-urban sound scapes. (Steamin. Soundworks 1999) which was received very well internationally.
The co operation between Banabila and Idrissi was a success and resulted in new tracks recorded on the promotion CD 'Kawakib Al Maghred' produced by Banabila and published by the 'Zuid-Hollandse Popunie' .
Consequently, Idrissi and Banabila decided to really form a team for Idrissi' s first solo album . Banabila initiated the project, became co-composer, made the musical arrangements, and was in charge of the recording sessions, using an array of renowned guest musicians. Idrissi's and Banabila's modern melting pot music is characterised by the use of Western instruments such as samplers, complemented with traditional string and percussion instruments. This combination results in a funky mix of soefi-singing, triphop, ambient and dance-beats through which one can clearly hear a hypnotic Orient groove. This type of music therefore naturally fits in with the current 'Global Music' stream to which Outcaste, Yulduz Usmanova and Natacha Atlas/Transglobal Underground among others belong.
On stage the cinematic improvisation style of Banabila on sampler blends wonderfully with Idrissi's Soefi-like vocals.
Album Arhil out now.
Sales & distribution Benelux: Zomba
INFO:
recording@boudisque.com